The 2022 Subaru Love Promise Customer and Community Commitment Award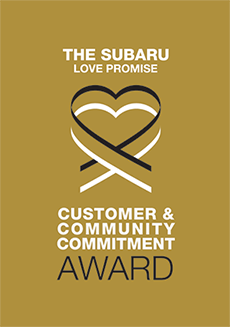 We've been nationally recognized for our dedication to our customers, our community, and the Subaru Love Promise.
We're honored to receive the 2022 Subaru Love Promise Customer and Community Commitment Award. This award nationally recognizes elite Subaru retailers who provide an exceptional customer experience at every interaction with Subaru. These retailers have also demonstrated an outstanding commitment to supporting passions and causes in their local communities in important areas such as the environment, community, health, education, and pets.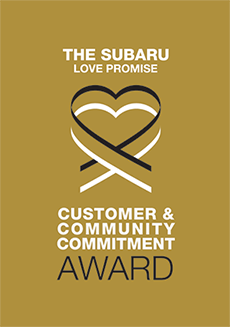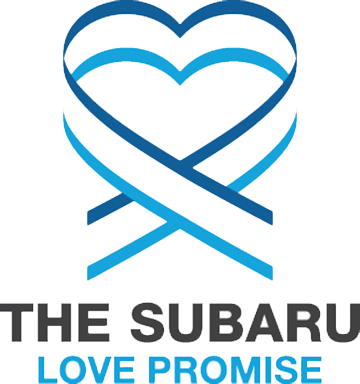 What is the Subaru Love Promise?
Subaru and our retailers believe in making the world a better place and the Subaru Love Promise is our vision of respecting all people. This is our commitment to show love and respect to our customers and to work to make a positive impact in the world.
How is Brilliance Subaru dedicated locally to the Love Promise?
Our Love Promise can be seen in various partnerships with local charities and non-profits. We're grateful for the opportunity, not only to be a part of our community, but to serve it as well.
Bleeding Heart Dog Toy Company
Sherman Hospital Charitable Foundation
Love Promise Stories from Brilliance Subaru
Subaru and Brilliance Subaru believe in making a positive impact on the communities in which we live and work. We uphold that belief through our Love Promise Community Commitment. Every month, we select inspiring stories from customers and partners from around our area who strive to support our collective commitment and feature them here
BRILLIANCE SUBARU FAMILY BANDS TOGETHER FOR TWO AUSSIE ADOPTION - Kelly K
On January 6th, Brilliance Subaru hosted two "Underdogs" from Anderson Humane, meet Melbourne and Brisbane, two fantastic Australian Shepherds. Melbourne and Brisbane are two amazing dogs! While nobody is sure if they are from the same litter, it appears as if they have never been apart since birth. These dogs are rarely more than a foot apart from each other, and they clearly have a special bond. It was obvious to the Brilliance team that these two siblings needed to continue to stay together and be adopted together. Brilliance Subaru created a social media campaign designed to find a foster home for these wonderful dogs. Two amazing customers of Brilliance Subaru, Kathy and Terry, were so moved by the post that they headed right over to Brilliance Subaru to visit Melbourne and Brisbane. Kathy and Terry are both experienced fosters but have never fostered more than one dog. Kathy stated that they had no intention of fostering both dogs, but, when she met them in person, she realized that they must be kept together at all costs. Kathy and Terry brought both dogs home. After just a few days, a wonderful local couple met the Aussies and agreed to adopt them as a pair! Due to some previous commitments, they could not accept the dogs for several weeks, and Kathy and Terry agreed to foster the dogs until they could be placed in their new, permanent, loving home. A big Brilliance Subaru shout out to Kathy and Terry, you embody the spirit of Subaru's Love Promise and we are glad to have you as part of the Subaru family.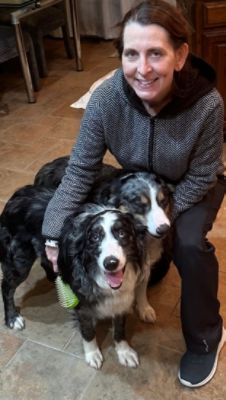 ---
Holiday Season Dog Toy Drive - Kelly K
This holiday season, Brilliance Subaru was able to donate a whole Subaru Outback trunk load of toys and dog food to Anderson Humane for the adoptable dogs who spent their holidays with the Anderson Humane family. We are so happy we could bring a little sparkle of joy to all the pups and we know they absolutely loved their new presents from the Brilliance Subaru family.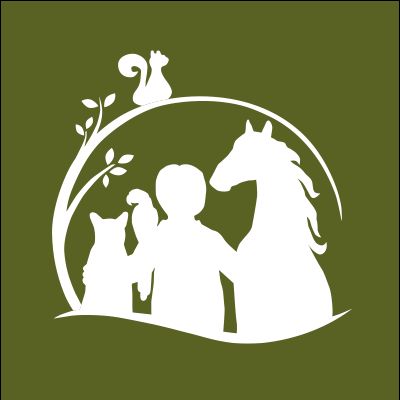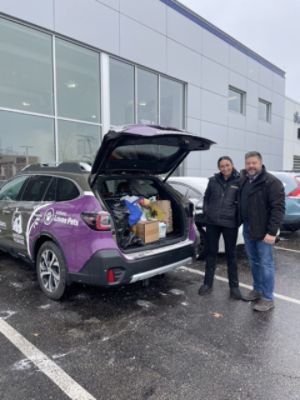 ---
Thanksgiving Food Drive For Veterans - Kelly K
Brilliance Subaru spent all November long collecting canned goods and paper supplies to Veterans Path to Hope! Veterans Path to Hope has a drop-in resource center for veterans and their families that offers certified veteran peer support to any veteran and family in need of assistance. They also have a food pantry on site, individual and group support sessions, and referral to other agency services such as New Horizons transitional living, employment assistance, housing assistance, and counseling. VPH's programs are staffed by veterans and veteran-friendly individuals who have knowledge of the challenges that face veterans and demonstrate an individualized approach to each concern. Veterans Path to Hope transforms lives through service to veterans. Brilliance Subaru is thankful to get the opportunity to support an organization that does so much for the veterans in our community. Brilliance Subaru was able to bring over 1000 cans, over 100 rolls of paper goods, and 20 turkeys for veterans/their families for thanksgiving.
---
Pancake Finds Her Forever Home through Brilliance Subaru - Greg M
During Subaru Loves Pets Month, Brilliance Subaru and Anderson Humane found 76 rescued animals the weekend of October 15th-16th. During this weekend Amanda and Sarah, two sisters, found their furry soulmate while fostering a litter of puppies for this event. Pancake stole their hearts and they fell in love with her the moment they brought this litter home. Pancake also gave them a push to start a new chapter and get a place of their own to raise their new fur baby! Pancake was one of the many rescued animals that gave many families a new purpose. Amanda and Sarah are incredibly excited to have this new addition to their family.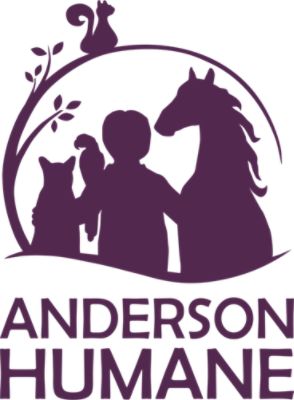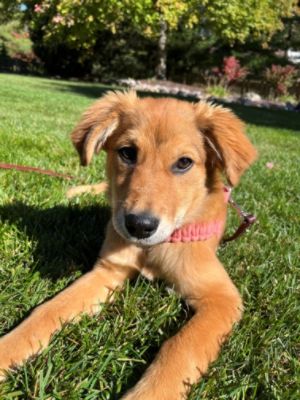 ---
2nd Adoption Event Success - Kelly K
During the weekend of October 15th-16th, Brilliance Subaru hosted an adoption event at the Brilliance Subaru Dog Park with Anderson Humane. The first day of the event felt like spring with beautiful skies and warm weather. Adoptees started lining up an hour before the event started to make sure that they got the animal that they wanted and it made the Brilliance Subaru/Anderson Humane team hopeful for a wonderful weekend. Throughout the first day, 61 rescued animals found their forever homes and there were only four adoptable animals left from the first day that went back for the second day. By Sunday, there were more adult dogs and even more kittens were brought to the adoption event! By the end of the weekend, over 75 animals were adopted! We want to thank Anderson Humane for their incredible work in finding these rescue animals a home. We also want to thank the volunteers and the adoptees for making this event such a success!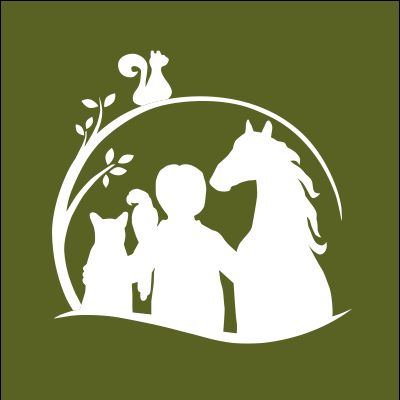 ---
The experience of a lifetime, from Kill Shelter to Mega Adoption Event - Kelly K
Brilliance Subaru has been working with Anderson Humane by bringing rescue dogs to Brilliance every Tuesdays and Fridays where they can get more exposure for adoption. Our guests get to interact with these dogs, and learn about the adoption initiatives. Brilliance received an opportunity to see the amazing work that Anderson Humane, Happy Paws and 3 Girls rescue do and went down to Oklahoma to meet them. First, Brilliance Subaru had an opportunity to meet the amazing "Rescue Warriors." The Rescue Warriors include the staff at Anderson Humane, Happy Paws, and 3Girls shelters. Our dealership's staff joined the Rescue Warriors on a multi-day journey to Oklahoma to rescue over 100 animals. The first rescue warriors the Brilliance team met were Kate and Jon Paris, who are the backbone of Happy Paws rescue in Checotah, Oklahoma. They have been running this shelter for over 20 years and have saved so many lives. This couple has had over 35,000 dogs spayed/neutered since 2013 and have a low cost clinic to help save even more dogs. The Brilliance team learned so much about the importance of getting animals spayed/neutered, they even joined the mass spay/neuter day and got to meet so many animals. Kate Paris stated that there is an overpopulation of dogs in their area and this is the only way to keep the dogs welfare in higher spirits. Kate and Jon will never let anything stop them from rescuing these pups! Then, Brilliance Subaru team had the opportunity to meet Mitizi Burkhart and Angela Meek who run 3 Girls rescue. They started their shelter in 2013 and have given everything to saving animals' lives. The two women run the entire rescue with a few volunteers but they have also saved so many lives. They fight everyday to make sure every dog has a home! Mitizi actually took some of the Brilliance Subaru team to 21 rescue dogs from the pounds and showed them the process of the dogs' first intake day. They learned what the first steps are in determining the animals' health and whether they were ready to be transported to Anderson Humane! After meeting the two rescues, Brilliance Subaru had the chance to do a full transport with Anderson Humane to Happy Paws in Oklahoma and back to Elgin, IL in a weekend. The Anderson Humane and Brilliance Subaru teams headed down, and got up the next day at 5:00 AM to transport 51 dogs to Anderson Humane. This experience was eye opening, humbling, and the Brilliance Subaru team was grateful for the opportunity to transport these animals across the Midwest to find better homes! Finally, after 10 Brilliance Subaru families fostered liters of puppies for three weeks, Brilliance Subaru had a mega adoption event with Anderson Humane at the Brilliance Subaru dog park. The adoption event was scheduled for June 4th and June 5th with over 100 puppies, some adult dogs, and kittens. But within the first four hours of the first day, every puppy was adopted! We even had to bring more dogs to the event from the shelter to be adopted. After both days, 156 animals found forever homes. The Brilliance Subaru team was grateful to be included in the full process of first seeing dogs in kill shelters to seeing them get into a car with their new forever family. After this full experience, Brilliance Subaru wants to be Anderson's best volunteers and we are incredibly thankful for all of the amazing work that they do!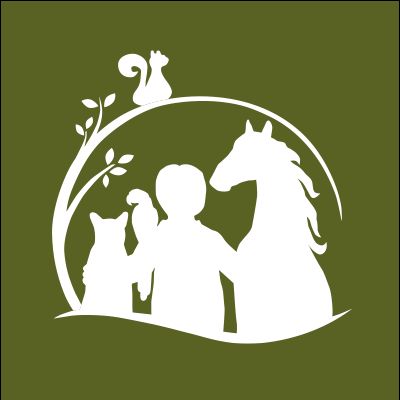 ---
Brilliance Subaru Helps Anderson Humane Bring 91 Beagles Home - Kelly K
Around midnight on August 8, four vehicles pulled into Anderson Humane's main shelter in South Elgin, carrying eight weary humans and 91 dazed beagles. It was the end of a nearly 800-mile journey from Virginia, but the beginning of a hopeful new future for the dogs The 91 dogs were a portion of the 4,000 beagles recently rescued from Envigo, a research and breeding facility in Virginia. When U.S. Department of Agriculture officials found dozens of violations of federal regulations there, which left the dogs ill, injured, underfed, and even dead, a federal judge approved their rescue and rehoming. The leadership of Brilliance Subaru of Elgin, an ongoing and valued partner of Anderson Humane, drove one of the vans—their own. "We want to provide any assistance we can for this amazing organization. It was an incredible honor to be asked to participate in this adventure," said Kevin Keefe, owner of Brilliance Subaru. Jim Daluga, the dealership's General Manager, made the nearly 30-hour round trip with Kevin and is even fostering one of the beagles. When the transport arrived at Anderson Humane's main shelter, over 60 staff and volunteers were waiting. These dogs have never learned how to walk on a leash and had to be carried everywhere. Jim and Kevin, along with the Anderson Humane volunteers and staff, unloaded the dogs from the vans and carried them to fenced-in areas so they could stretch their legs before settling in for their last night in a facility. Early Tuesday morning, staff and volunteers again swarmed the shelter, carrying dogs one-by-one through the intake process. The dogs received any needed vaccines and microchips and were each finally given a name to replace the numbers they had been known by, tattooed inside their ears. Anderson Humane President and CEO Beth Foster addressed the first batch of fosters, explaining they had been given all male beagles between 6 and 18 months old. "These beagles haven't been on this earth long, but that life has been scary. People haven't always been good to them," she said. "They are starting over now, and you are the beginning of that." Anderson Humane is so thankful for the support readily given by Brilliance Subaru. They jumped to help the animal welfare organization when the call came to utilize one of their vans. Because of their willingness to help, more beagles were given a fresh start. Kevin and Jim, along with the entire team and Brilliance Subaru, truly embody the Subaru Loves Promise. It has literally taken them across the country in support of Anderson Humane. Learn more about Anderson Humane's efforts to save the beagles at www.ahconnects.org/beagles.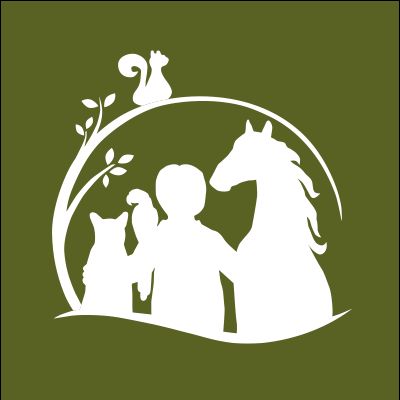 ---
From Pound to Brilliance Subaru, Kelly Keefe sees her dog again - Kelly K
In the first week of May two members of the Brilliance Subaru team, Kelly Keefe and Lauri Cavin, received the opportunity to meet 2 different animal rescues in Oklahoma with Anderson Humane. The two rescues were 3 Girls Rescue and Happy Paws rescue. While they were visiting with 3 Girls rescue, the Brilliance Subaru team went to 3 different pounds to pick up dogs that were supposed be euthanized that day. At the first pound, Kelly Keefe fell in love with a Redbone Coonhound mix and Kelly got the opportunity to bring the dog outside to the grass and truly bonded with her. After their trip to Oklahoma, Kelly never got to see the sweet pup again. Then, on Monday August 1st, Lauri Cavin got an email that the Dog of the day at Brilliance Subaru will be a sweet dog named Kelly. When we saw the picture of her biography, it was the dog that Kelly saved at the Pound and 3 Girls Rescue named the pup after the Brilliance Subaru team member. On Tuesday August 2nd, Kelly and Kelly finally got to reunite! Kelly the dog got to play at Brilliance Subaru Park, meet more of the Brilliance Subaru team, and play with Kelly the human. Kelly the dog is still up for adoption and she is the sweetest girl in the whole world! You can go to www.ahconnects.org/adopt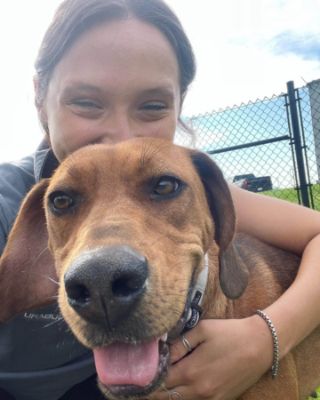 ---
Brilliance Subaru Brings Love and Hope to Cancer Patients - Shelby W
On June 28th, 2022, the Advocate Sherman Cancer Institute at Advocate Sherman Hospital in Elgin, IL received 80 blankets and 25 arts & craft kits for their patients provided by the Brilliance Subaru team and the Leukemia & Lymphoma Society's Illinois Region Chapter. These comforting gifts were also accompanied by personalized message of hope cards written by customers and staff of Brilliance Subaru. Items like these show support and love to Advocate Sherman Cancer Institute's patients as they navigate their diagnosis and treatment journey. Many thanks to everyone at Brilliance Subaru and the Advocate Sherman Cancer Institute for supporting LLS's mission to cure blood cancers and improve the quality of life to patients and their families.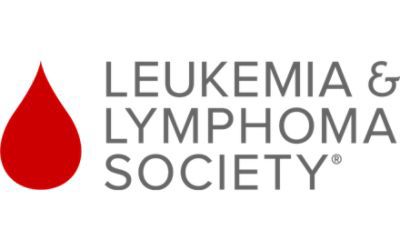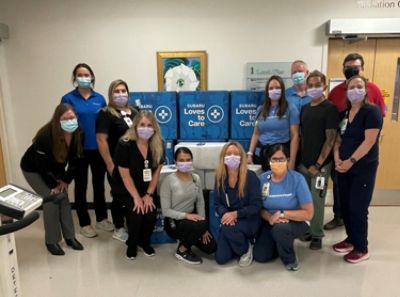 ---
Salesman helps save Red Tail Hawk - Kelly K
Scott Hembrough, one of our sales associates at Brilliance Subaru, saved a wild Red Tail Hawk and has a great story to tell. June 23rd was a wild day. At 6:00 AM, Scott went to let his dog, Willis, out and feed the birds. As he was starting out to feed the birds, Willis charged over towards the garage and there was a great big hawk just sitting there. He got Willis and put him inside and this entire time the bird would not fly away. After hours of trying to figure out what to do, hearing the mom or dad making hawk noises in the tree in our yard which has had the hawk nest for years. Nothing happened. He reached out to a local animal control, and their volunteers were unable to assist so he had to think of something else. He called a friend, a salesperson that worked for him for years and that has a large farm and asked for his suggestions. He said he knows a guy by the name of Todd Johnston. He remembered Todd, he was the F & I manager at his BME store so he had Todd call Scott. Scott explained to Todd what was going on so about 2:00 in the afternoon he came over and Scott showed him where the bird had moved to and where he was hiding. Earlier Jan had looked the bird up online and we thought it was a Cooper's Hawk. Todd looked at it and immediately said this is a Red Tail Hawk and kept the dog away because they are vicious. He headed back to his car and said he brought his glove and was happy because with the Cooper he would not have needed it but with the Red Tail you must have one because they can claw you badly. Todd also asked for a blanket to cover the hawk. So he took the blanket and threw it over the bird and within seconds he was holding the bird and had the leather mask over its eyes and nose. He felt around to see if he could find anything wrong with the bird's wings and they seemed fine so he just started walking back to his car with the hawk in hand. He drove away using one hand driving and the other holding the hawk. Later that afternoon, Scott got a text from Todd saying he was at the vet's doing blood work and getting the bird hydrated. Then the following morning, he sent Scott a picture of the bird last night very lethargic with off rhythm breathing so they gave him fluid injections and two antibiotics and an avian Narcan in case the bird was poisoned. He also advised them that morning the hawk had eaten twice, was doing much much better and should be ready for release in a few days. What a way to spend your day off Scott but the final outcome was wonderful. Thank you Scott for believing in recovering this beautiful bird and thank you to Todd for bringing this Red Hawk to safety!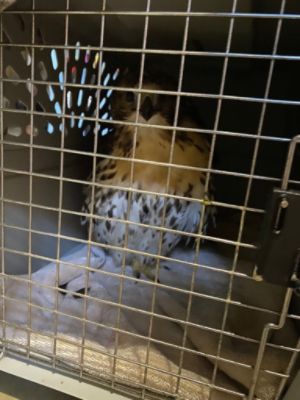 ---