The 2021 Subaru Love Promise Customer Commitment Award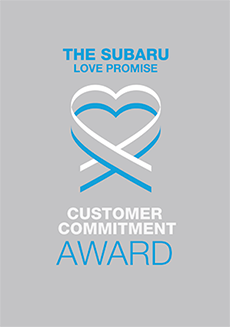 We've been nationally recognized for our dedication to our customers and the Subaru Love Promise.
We're honored to receive the 2021 Subaru Love Promise Customer Commitment Award. This award nationally recognizes Subaru retailers who demonstrate excellence in all areas of customer-focused performance. It highlights exceptional customer service that builds lifelong relationships with Subaru owners.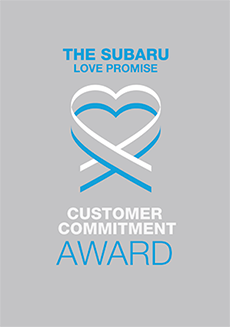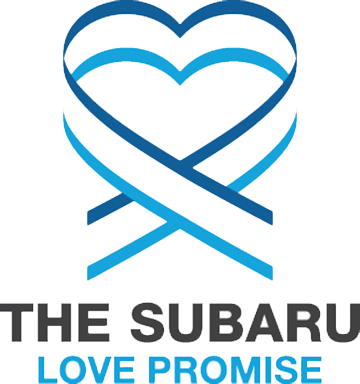 What is the Subaru Love Promise?
Subaru and our retailers believe in making the world a better place and the Subaru Love Promise is our vision of respecting all people. This is our commitment to show love and respect to our customers and to work to make a positive impact in the world.
How is Brilliance Subaru dedicated locally to the Love Promise?
Our Love Promise can be seen in various partnerships with local charities and non-profits. We're grateful for the opportunity, not only to be a part of our community, but to serve it as well.
Bleeding Heart co., Sunny Hill Elementary
Sherman Hospital Charitable Foundation
Love Promise Stories from Brilliance Subaru
Subaru and Brilliance Subaru believe in making a positive impact on the communities in which we live and work. We uphold that belief through our Love Promise Community Commitment. Every month, we select inspiring stories from customers and partners from around our area who strive to support our collective commitment and feature them here
Wreaths for Anderson Humane - Greg M
All holiday season long, Brilliance Subaru got the opportunity to host a fundraiser in our service waiting area for Anderson Humane. In the month of December, we asked our guests if they would like to make a donation to Anderson Humane through Brilliance Subaru. Day by day, we got to see the wall of wreaths with our guests' names grow into a wall full of donations. By December 31st, we had a total 178 wreaths showcased in our service waiting area. We donated $1,800 in total and we are so excited that we were able to give back to Anderson Humane this holiday season.
---
Suits-For-Vets - Jennifer K
Brilliance Subaru, Brilliance Honda of Crystal Lake, and Anderson Humane got together this holiday season to donate suits to Veterans Path to Hope. One of the missions of Veterans Path to Hope is connecting veterans to job interviews which may require a suit or business attire. So at Brilliance Subaru, we wanted to make sure any veteran of need in our community had access to clean quality business attire. At first, the clothing drive started internally between the two retailers of Brilliance Motors. But one day Greg Mucha, Director of Corporate Partnerships at Anderson Humane, stopped by Brilliance Subaru and saw the clothing drive flyers hanging in our breakrooms. He happily passed on this news along to other members of his staff including their Veterans Program Administrator. Our donation items increased exponentially! Our owner Kevin Keefe then contributed to have all the donated clothing dry cleaned! With the help of all three organizations, this clothing drive went from a regular donation to a three day event for Veterans Path to Hope. We are thankful for all of the staff at Brilliance Subaru, Brilliance Honda, and Anderson Humane for donating these suits for both men and women veterans. The Suits-for-Vets event took place from Wednesday December 8th – Friday December 10th at Veterans Path to Hope in Crystal Lake IL.
---
Veterans Path to Hope Donation - Laura F
Veterans Path to Hope Donation In honor of Subaru Loves to Help and Veteran's day, Brilliance Subaru had the opportunity to give 80 blankets to Veterans Path to Hope. Veterans Path to Hope is a veteran and veteran friendly staffed organization that recognizes the challenges that veterans face and demonstrates an individualized approach for each veteran. They have programs that allow a supportive transition for homeless and struggling Veterans such as housing, basic necessities, employment, veteran support, and so much more. Laura Franz, Executive Director, shared how much the veteran families appreciate new blankets, and stated that the ongoing partnership with Brilliance has helped the agency help many veterans in need. These blankets will be given to the Veterans within the programs of Veterans Path to Hope. We are grateful for the opportunity to give back to an impactful organization of our community and honor the ones who have served for our country.
---
Dog Adoption Event at Brilliance Subaru - Greg M
Subaru Loves Pets participation with Brilliance Subaru of Elgin, IL Brilliance Subaru of Elgin has been such an incredible partner of Anderson Humane (aka Anderson Animal Shelter). Over the past year, Brilliance and their staff (Jim Daluga, Lauri Cavin, Justin Gesswein and Kelly Keefe) have been a blessing to our organization with adoption events, "Dog of the Day", the Underdog Program and their continued financial support. They have provided much needed funding to help us to care for over 6,000 animals in 2021. As a part of that number, we were able to find forever homes for over 3,500 puppies, dogs, kittens and cats. Hosting the Subaru Loves Pets on-site adoption event in October, they have shown their dedication to Subaru's Loves Pets program and commitment to making the world a better place for the animals and their new families. The on-site adoption event paired 11 pets with their new parents, with an additional 20 throughout the month of October and created a life-long bond that enriches the lives of not only the animals, but their owners as well. We see the effects every day as the adopters send us updates on the progress of their new family members and how much love and joy they bring into their lives. Without Subaru's support, things like this wouldn't be possible. Anderson Humane and Subaru align so well in our beliefs and missions. I guess you could say it's a match made in heaven and one that we cherish greatly. Brilliance Subaru of Elgin means a great deal to Anderson Humane in allowing us to continue to change the lives of animals AND Humans alike!
---
Pet food and supply donations for 2021 - Food For Greater E
Pet food and supply donations for 2021 Frequently, people that are hungry will feed their pets before themselves. This not only leaves less for them to eat, but also the people food can be unhealthy for their pets.Brilliance Subaru for the entire 2021 year has supported and continues to support, Food for Greater Elgin, with pet food donations from both our employees and our customers! There is a collection box in our service department for our customers to place their donated pet items. Our customers receive a free Subaru T-shirt from Brilliance Subaru with their donation. We have emptied the box and brought over pet food to Food for Greater Elgin. We have brought over 8 Forester loads so far this year! Our generous customers and employees continue to bring pet related items for us to take over Food for Greater Elgin! The food pantry has a designated rack for pet food. This rack is the first to empty every week! Any non-food related pet items we donate to Anderson Animal Shelter for their shelter dog's needs. Over the course of this year we have donated toys, leashes, collars, training harnesses, cat litter, puppy pee pads, dog soft training treats, pet food bowls, dog waste bags and much more!
---
Anderson Humane Dog of the Day changes lives - The N
In July 2021 our in store Rescue Dog of the Day was Iris! Everyone loved Iris! Despite having a wonderful temperament and being a super sweet loving dog, the 5 year old Boxer mix was having a hard time finding a home due to her age. During one of her in store visits, Mike, sales manager, was doing his walk around the store introducing Iris to our service customers, when he found the Nemer family. They were looking for an adult female dog to fit into their family with 2 young boys. It was love at first sight for all! They visited with Iris in the store for about an hour and Iris was so smitten with their boys, she would not take her eyes off of them! She rolled over for lots of belly scratches and stayed right with them their entire visit. One of the boys commented that Iris got her name because the iris's of her eyes were so beautiful! It was a perfect match. When it was time to take Iris back to the shelter, she planted all four paws and had to be dragged away from her new found family love! Brett and Liz contacted the shelter to visit Iris the next day and they adopted her! After their adoption experience, Liz started volunteering with Anderson Humane every Friday! She is hoping to come help Anderson at our adoption event in October! From the Nemer family: They want to share how much Iris has improved their lives. Liz works from home alone all day and Iris is a wonderful companion. Iris has also helped her sons feel much love and security during these social uncertain times. She has become a beloved family member. From the Brilliance side: We all found it so incredibly rewarding to be able to help not only Iris and Anderson Humane but we helped improve our customers lives as well.
---
Dog Toys That Change Lives - Evelyn S
As part of the Subaru Loves Learning program, Brilliance Subaru has partnered with a young lady, Evelyn Stone. Evelyn is a 17 year old high school student who is passionate about pets, dance, and spreading love in the local community. Evelyn has a 12 year old Mastiff named Daisy who loves toys. Daisy inspired Evelyn to found a company, Bleeding Heart, whose primary mission is to make high quality, affordable dog toys. Since starting this company, Evelyn has produced over 400 dog toys, has sold 259 and donated 75 to local shelters. We were introduced to Evelyn through a member of our office staff. We were inspired by Evelyn's story and decided to purchase toys from Evelyn for Anderson Humane, a local shelter. Brilliance Subaru ordered 50 dog toys to be provided to dogs at Anderson. The toys are extremely durable, and, according to the staff at Anderson Humane, are very popular with the dogs. In order to help Evelyn promote her business, Brilliance Subaru has invited Evelyn to participate in Anderson Humane's Festival for Animals, September 26, 2021. Brilliance Subaru will donate all raw materials for the toys, pay for booth space and be on hand to sell and promote the Bleeding Heart toys to pet lovers in the local community. We will continue to purchase toys to be donated to Anderson Humane, and have pledged to make our expertise available to Evelyn in order to help her expand her business. Brilliance Subaru is proud to sponsor Evelyn and we will do all we can to help her continue to make a positive impact on the local community.
---
Advocate Sherman Hospital Delivery 06-26-19 - Michelle M
On June 26, 2019, the Illinois Chapter of The Leukemia & Lymphoma Society and Brilliance Subaru had the pleasure of delivering 80 blankets to Advocate Sherman Hospital as part of the Subaru Loves to Care program. These comforting gifts were accompanied by personalized messages of hope written by the customers and staff of Brilliance Subaru. This incredible act of generosity was gratefully received by the Sherman staff who were thrilled to join us in distributing these comforting gifts to their patients. LLS is proud to partner with Subaru to spread hope, love and warmth to those fighting cancer, across the country and right here in the Elgin, IL community. Many thanks to everyone who participated, particularly Jim and his team from Brilliance Subaru, and Stephanie, Carla, and Lauren from Advocate Sherman Hospital. We appreciate all your support of the LLS mission to cure blood cancers and improve the quality of life of patients and their families. Thank you all for making it such a memorable day.
---
Breast Cancer Awareness and Prevention - Jennifer B
During the month of October, Advocate Sherman Hospital and Brilliance Subaru partnered to make strides against breast cancer. Friends of the hospital, staff and patients were invited to test drive a new Subaru at Brilliance Subaru and have a $50 donation made to the Advocate Sherman Breast Cancer and Awareness Prevention Fund. On November 14, Brilliance Subaru presented a check for $5000. Pictured from right to left are Janeen Bazan, Oncology Nurse Navigator, Advocate Sherman Hospital, Kari Weisenberger, Coordinator of Radiation Therapy, Advocate Sherman Hospital, Carla Carbajal, Program Manager CALP & Oncology Services, Advocate Sherman Hospital, Cindy Laudermilk, Sales Associate, Brilliance Subaru and Donna King, Sales Associate, Brilliance Subaru.
---
Advocate Sherman Hospital Blanket Donation - Jennifer B
Advocate Sherman Hospital and Brilliance Subaru partnered with the Leukemia & Lymphoma Society to assist Elgin area cancer patients. Brilliance Subaru donated 150 warming blankets to be used by patients undergoing treatment at Advocate Sherman Hospital's cancer treatment center.
---