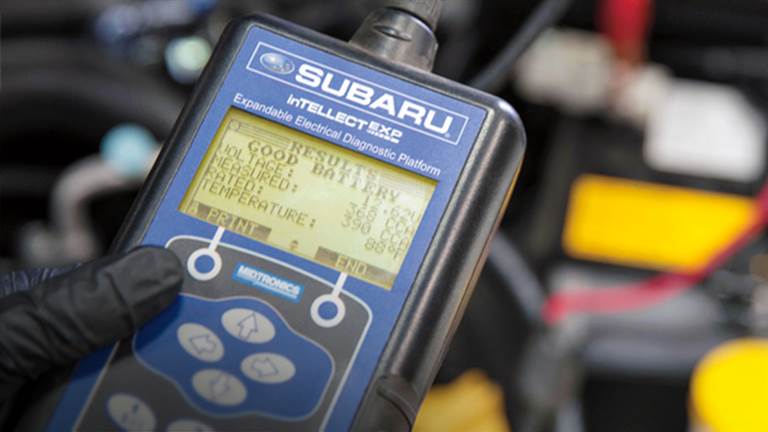 Subaru Battery Testing & Inspection in Elgin, IL
No matter the time of year, it always is a good idea to make sure your car battery is in good working order. That is especially important, though, when winter is coming. Cold winter nights leave many Illinois residents with dead car batteries when they try to go to work in the mornings. If your car battery is weak, the first freezing cold night very well may kill it. The certified technicians at Brilliance Subaru can do battery inspection and testing service on a vehicle. That helps to ensure your car battery has enough power to start your car on very cold mornings and will continue charging while driving.
Inspecting and Testing Your Vehicle's Battery Schedule
Our highly experienced technicians will do a full diagnostic and visual inspection of your battery and battery cables. If your battery is charging and holding a charge as it should, we make sure all the cables and connections to the starter are in good condition. We also clean the terminals so that all the juice gets transferred as it should. If your battery is too low to take and maintain a charge, we can install a new one right away. We have a great selection of top-brand batteries and affordable alternatives to give you lots of choices to fit your budget.
Maintaining Your Battery is Crucial
Many people forget about their car batteries until they stop working. That usually happens at the worst time - like when you are trying to get to work on a very cold morning. If your car battery is at least two years old, it might show signs of age and no longer take a full charge. A battery inspection and testing service make sure it still charges as it should. We also make sure the connections are clean so that all the power goes from the alternator to your battery, and from your battery to your starter and electrical systems. That ensures nothing is draining power from your battery, and that all electrical systems should work, even when the car is not running. It also tells you your car should start on a very cold winter day.

Schedule Your Service Today
You can call today, and our friendly staff at Brilliance Subaru will schedule your car for a battery inspection and testing service at our service center right away. The service takes less than an hour, and we have a comfortable waiting area. It has free Wi-Fi, TV, coffee, and snacks. We even have a workout room if you like to stay fit and want to exercise while we work on your car. Many in St. Charles, Bartlett, Huntley, and Schaumburg, IL also like our online scheduling system.
  Schedule Service
---
Dealer Wallet Service Marketing & Fixed Ops SEO by
Service Hours
Monday

7:00am-7:00pm

Tuesday

7:00am - 7:00pm

Wednesday

7:00am - 7:00pm

Thursday

7:00am- 7:00pm

Friday

7:00am - 7:00pm

Saturday

8:00am-3:00pm

Sunday

Closed